The 9 and Dine is BACK in 2022
9 and Dine is BACK in 2022 !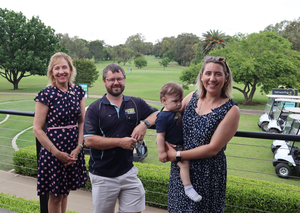 Throughout Calrossy's 102 year history the Parents and Friends have been advocating for parents through forums on topics such as school structure, to funding large scale projects like the William Cowper Campus Amphitheatre and the Junior School Playground redevelopment. Everything that the P and F do is dedicated to making the most of the Calrossy experience for the students so the staff can continue to be innovative with how they deliver and support parents. Like all community events the 9 and Dine was impacted by the COVID-19 restrictions over the last couple of years and we are very excited to ask our community to Save the date for the afternoon of Friday 11th February 2022, the Calrossy Parents and Friends are hosting a Nine and Dine event at the Tamworth Golf Club. Our guest speaker and player for the afternoon/ evening is Australian Paralympic Wheelchair Rugby Star and 4-time Olympian Ryley Batt OAM.
P and F Secretary Michael Wilson said this is not just a fundraiser it is a fantastic way to bring our community together for a social afternoon of golf no matter what level player you are and then to listen to an inspirational speaker. We are very fortunate to have the support of our naming sponsors Financial Map, The Count Charitable Foundation and Apollo Blinds Tamworth. Events like these just don't happen without fantastic supporters like these local business. Mrs. Kim Scott from Financial Map and representing The Count Charitable Foundation said we are very proud to be able to continue our association with the Calrossy P and F who have made an enormous impact across Calrossy and we fully support their vision and determination to make a difference. The work that has been achieved is phenomenal.
Calrossy is a multi-campus school with the Senior Secondary Campus at Brisbane Street and the William Cowper Campus where our Junior School and Calrossy 7-9 is located but one thing is certain in a Tamworth climate, it is the need for shade. The focus for the P and F in 2022 is increasing shaded spaces for the students. Funds from the 9 and Dine event and the School Colour Run will be used to improve and enhance the shade available. Mr. Tim Fox Apollo Blinds Tamworth said being able to support the P and F to raise funds to purchase more shade structures was an easy one for our company. I also have children at Calrossy and I hear when it's hot that finding a cool place to sit is at a premium so we are really excited to be involved.
The event also has opportunities for other businesses to be involved as hole sponsors and we take this opportunity to recognise the following businesses who have generously signed on to be involved such as our 19th Hole Sponsor KEO Designs along with McLeans Earthmoving, Hancocks Chartered Accountants, Daruka Capital, Kangaroo Courts, Inland Technology and Brosie, Martin Barnett.
We will soon be opening registrations for our event and we look forward to welcoming everyone along to share a laugh, play some VERY social golf and raise some friends and funds for the Calrossy P and F.
Pictured left to right: Mrs Kim Scott Financial Map and representing The Count Charitable Foundation – Mrs Melanie and Patrick Wilson Calrossy P and F representative – Mr Tim Fox Apollo Blinds Tamworth