Meet Mrs Turner, Head of Music
Beethoven once said 'Music can change the world'.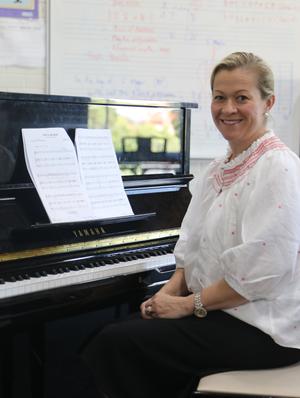 For our School Head of Music, Naomi Turner, it certainly can. We had the opportunity to sit with Naomi, to talk about her role across the school and why she loves doing what she does!
Naomi has been teaching for over 24 years, with most of that time spent in music departments. Naomi is very excited to review the plans for our upcoming Building on the William Cowper Campus that will include Auditorium Seating with Acoustic architecture! More details to come, or click here to find out about the long term MasterPlan.
So why did you decide to enter teaching as a career?
Well for a start, I just love music. I love showing students the passion about my subject area. I wanted to share the joy and love of music across a wide audience. I also really enjoy working with both young children and the intellectual challenge for older students in class rooms.
How is your classroom arranged to optimise learning? How do you like to teach?
In Music, we work collaboratively for aural and practical components, which means we have the tables set up so they can see each other - a horse-shoe configuration I have found works well. We like structure and organisation as we change types of activities regularly within a lesson. We also utilise the larger rooms with stackable tables to clear the space for movement and practical/ensemble lessons. We utilise the whiteboards at the front to refer to regularly within the lesson for learning intentions and structured visual cues. Also use of Apple TV for Airplay from our Macs for all technology used for composition, aural and musicology lessons. We store all our instruments and resources in the room for ease of access. Keyboards, guitars, drum kit, African drums, UT percussion, ukuleles, bucket drums, pianos, as well as the Instrumental Programme instruments and stands (brass, woodwind, percussion and strings).
It may seem chaotic sometimes, but with our creative music programs starting from Prep and Infants, transitioning to the Year 3 & 4 Instrumental Programme with Flutes, Trumpets, Clarinets or Trombones, to the 5 & 6 intensive music. All while we are supporting our junior school with Musicals, Choir, Concert Band, Jazz Bands, Rock Bands.
We follow it through 7-9 and the Senior school electives. My passion is to encourage all my students to be their best. We have secondary Choirs, Bands, Orchestras and HRIS Cultural Festivals. Music never stops, and yes, there are many extra curricular options, but I wouldn't change my role for the world.
What are your favourite types of lesson plans to create?
Over the years I have learnt integrated lessons work. They allow students to discover, model activities, explore/listen and then independently apply the skill or knowledge.
For you, what are the most exciting aspects of teaching and your work?
I love the interaction with students and seeing their growth over the years, from Prep through to Year 12. My special excitement is our HSC students achieving their band 6's! However, I love the joy and excitement in the Junior School children too.
How do you encourage involvement of students and parents in the school and your classroom?
We sometimes host lunchtime concerts (depending on the environment), I am always available at all school events to give information, I share on the Hub and Newsletters regularly. I feel connected to parents (as I am one) and I like to lead by example, to have a go and model desirable behavior for all activities so it's a safe and accepting environment.
What traits do you hope to inspire in your students? What do you wish for their future selves?
I hope everyone keeps their passion, enthusiasm, and confidence in their skills. I hope to inspire encouraging, positive, always striving to improve behaviour that is communicated clearly while working together to achieve positive outcomes.
What do you think has been the most difficult challenge in your career?
Constant change and expectations to deliver the best curriculum in the changing environment. I note that the past couple of years have been hard particularly during 2020 when we all went online or when music was canceled in the school environment.