Meet Ruth Allum
Our very own Mrs Ruth Allum is in the spotlight this week. Her commitment to our students, teachers and our school is outstanding.
Ruth is our Junior School Year 3 to 6 Coordinator and is also one of our Year 5 teachers. Coming from a family of educators and with a love of encouraging learning with primary children, Ruth has been teaching for close to 37 years. We have a number of teachers who nominate Ruth as a mentor, so let's find out what drives her career in education!
Working in different states (NSW, Tas, Qld) and with different education providers (State, Catholic, Independent), Ruth has had to change and adapt to different syllabuses and ways of teaching that only benefits our Calrossy students.
How is your classroom arranged to optimise learning? How do you like to teach?
I find that desks in groups or clusters help with classroom independence and collaboration. I establish clear routines and expectations that allow my students to feel comfortable and informed. To optimise learning in the higher grades of our Junior School, the process begins with explicit teaching followed by class collaboration and then individual practice.
It's important to listen to my student's voices to determine how they are grasping a particular concept. I use IT where appropriate as there are many other outlets for technology across our school. My classroom has lots of natural light, real plants and a focus on student responsibility to keep the room neat/clean and not cluttered. Student learning is presented in displays throughout the room.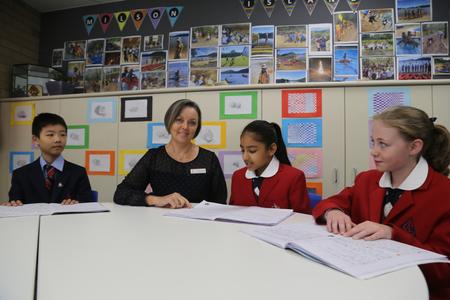 What are your favourite lesson plans to teach?
Writing and Visual Arts.
Stage 3 is where students really develop their skills with informative, creative and persuasive writing. Their vocabulary is becoming more sophisticated, and the use of literary devices is beginning to become automatic.
Visual Arts is also a creative discipline that I enjoy teaching. Developing skills using a variety of media and appreciating other artists' works is always fun.
For you, what are the most exciting aspects of teaching and your work?
My favourite moments are watching students' growth and progress across the year. It is a wonderful thing to witness 'light bulb' moments and the sense of achievement that brings. Working with and learning from colleagues is always incredibly rewarding.
Who has given you the most support in learning to be an effective teacher?
I seek inspiration from my colleagues. No one is the perfect teacher, but by combining resources, information and skills, together we have a diverse toolbox that can only benefit our students. It is also important to access a range of professional development from different providers, to keep up to date with current practices, ideas and theories.
How do you encourage the involvement of students and parents in the school and your classroom?
I have found that keeping parents up to date with classroom activities using the Seesaw app has been invaluable! Seesaw allows our parents to be a part of our classroom even when restrictions didn't allow them to be. Students choose what they want to share and why they are proud of it. Our class assemblies also provide our parents with the opportunity to come into the school and visit the classroom. The students value the chance to share their learning with their parents.
What traits do you hope to inspire in your students? What do you wish for their future selves?
To have resilience and a love of learning. Recognising that failure is a positive learning tool. To have the skills to bounce back and try again when things go wrong or don't turn out how they wanted them to.

My philosophy is...
"I want all my students to feel safe and happy to come into my classroom every day. If I can achieve that, then they are happy to learn, take risks and challenge themselves."

Find out more about our Junior School