A Brief history of Sport at Calrossy.
For over a century, Calrossy Anglican School students have had countless opportunities to participate in a wide range of sporting activities.
David Hampstead, our Director of Sport, has a vision for the future of Sport at Calrossy.
"Calrossy is renowned for its outstanding academic achievements over many years. At the same time, our students continue to achieve at the highest levels across many sports. Calrossy offers a diverse range of sporting opportunities across its two campuses within its curricular program, as well as in the extra-curricular sporting space. Cricket, Netball and Rugby continue to form the backbone of our sporting program, with women's rugby exploding in popularity in recent years.

In 2022 a new sporting era beckons. We have invested in new sporting facilities and begun new sporting programs. Calrossy has partnered with Rural Fit to deliver the first ever Calrossy Identified Athletes Program, aimed at meeting the needs of our top athletes as they pursue sport at Calrossy. We have introduced a Rifle Shooting program with plans to expand and have teams compete in competitions locally and further afield. As we move beyond the global pandemic, we are confident of sporting tours resuming both domestically, and internationally. With opportunities in bouldering, mountain biking, and other niche sports, Calrossy provides a wide spectrum of sporting opportunities for students in the School.

Calrossy has vision of delivering the best sports program in Northwest NSW in the coming years. With the ongoing support of families, alumni, and the Tamworth community, we believe Calrossy students can be achieving at the very highest levels of their chosen sport. More importantly, we believe students will have many opportunities to participate in and enjoy sport with friends making lifelong memories of fun and connection."
From our Archives - A brief history of Sport at Calrossy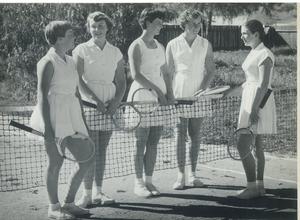 From the first students, who played tennis on the courts located in the grounds of St John's Church, to the first Sports Mistress, Miss MacDonald, who also taught Dance, Eurhythmics (a system of rhythmical physical movements to music) and Self Defence. Calrossy Sport has always played an important part of our School and history.
When Calrossy moved to its present location in 1923, the orchard and gardens were gradually transformed into netball, hockey and tennis playing areas. Students competed in Inter-House competitions from 1930 and also in Interschool competitions against the much larger Tamworth High School and also in town competitions. Miss Berry (1928-1936) was a very popular Sports Mistress during this time.
In the 1930's and 40's, the girls participated in drill teams and ball games teams as well as athletics, swimming, hockey and tennis. Headmistress Miss Horton (1941-1951) introduced early morning swimming for boarders in an effort to ensure girls could swim.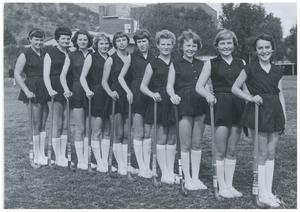 Netball continued to be very popular. (Interestingly, the game was known as netball by the School up to 1949. In 1950-1971 it was called basketball. From 1972 onwards it was again called netball to distinguish it from basketball which was growing in popularity nationally.) In the 1950s, as well as athletics, swimming, hockey and netball, some girls began to represent the School in Softball. In 1961 and 1962 Calrossy also entered in local squash competitions. The highlight of the 1960s must have been the construction of the swimming pool which was open early in 1969, the year Calrossy celebrated 50 years of providing education for girls.
Unfortunately our Archives have limited information about individual students in these early decades. (If you have any stories or news we encourage you to share them". Click Here)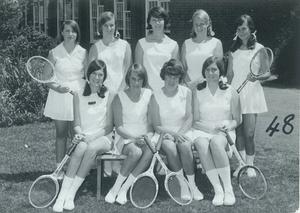 The 1970s saw sport continue to be an important part of Calrossy life. Calrossy sporting teams dominated the local sports scene by the sheer number of teams participating. In 1975 the first School basketball and cricket teams were formed, followed by soccer in 1977. Former Australian test cricketer Mrs Helen Taylor (nee Lee) joined the staff in 1977 as Sports Mistress and Science teacher. She and colleague, Mr Les Brady, encouraged the growth of cricket among the girls. Many girls competed in activities outside the School, horse riding and jazz ballet were some of the favorites. Perhaps the most successful sporting star among our students, joined the Calrossy in 1977, as a Year 10 boarder. Her name is
Deborah Wells
(aka the Emmaville Express). Deborah, a sprinter competed in three Olympic Games (1976, 1980, 1984) and is one of the few Australian athletes to be a triple Olympian.
Check out her Wiki here.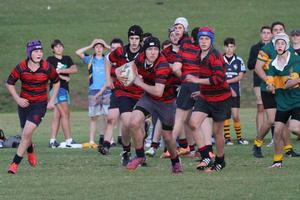 The 1980s saw the continuing involvement of girls in athletics (including cross country), swimming, netball, basketball and hockey. In this decade girls could also compete in water polo. Our students competed in inter-house and district inter-school competitions and in wider competitions such as the Independent Girls' Schools Sporting Association (IGSSA) annual competitions. From there girls could be selected for state teams and even to represent Australia. Horse riding and jazz ballet were again popular activities undertaken by students outside the School. The School entered the North West Dance competition for the first time in 1989. Calrossy was fortunate to recruit Mrs Wendy Wheeldon (1983-2018) and Mrs Chris Curran (nee Molesworth) (1981-present) to join the PDHPE staff during this decade. Karyn Taylor, Deborah Barwick and Helen Enevoldson were selected for the NSW U/21 state training squad for Hockey. Allison and Lucianne Kelly were selected for the NSW Netball State league Women's Team. Melanie O'Shea was selected in the NSW swimming team. Staff members Mrs Wendy Wheeldon and Mr Les Brady received recognition awards for contribution to Life Saving by the Royal Australian Life Saving Society. Mrs Helen Taylor and former staff member and alumni, Mrs Lyn Barwick (nee Little) were selected for the NSW Veterans Hockey team.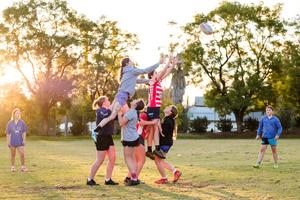 The 1990s saw a further expansion in the sporting opportunities offered to our students. Oz Tag and touch football proved to be popular new sports for students to play, as well as soccer. This decade saw our girls competing in IGSSA gymnastics competitions and representing Calrossy officially in equestrian competitions. In 1998 the first overseas sports tour took place. Mel O'Shea's success in swimming continued. She qualified for the Olympic Swimming team trials in Canberra and placed in the top 16 in Australia in her events. Tennis player, Elissa Bennett was selected for the IGSSA tennis team to compete in the Combined Independent Schools (CIS) team against All Schools and Amy Johnson was selected for Athletics. Georgina Bagshaw and Amanda Zucker were selected in the CIS teams for Cross Country as well as Melissa Hindle, Kate Lebrocq and Jennifer Millar. Anna Barwick and Mindi Jordan were selected for CIS Hockey teams, Melissa Edwards and Rebecca McGinnity were selected for the CIS Gymnastics team and Sarah Lawty for the NSW Roller Hockey team.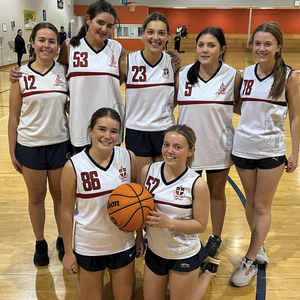 From 1999 William Cowper Anglican School joined our history fold, followed by William Cowper Anglican Secondary Boys' School in 2001. The Calrossy Sports Foundation was launched also in 2001. New sports were added to the activities available to students in addition to the athletics (including cross country and triathlons), basketball, cricket, netball, swimming, Oz tag, touch football, horse sports and water polo. These included mini ball, minkey hockey and flipper ball as well as rugby union. In 2006 the three schools amalgamated under the banner of Calrossy Anglican School. Students continued to have success in a wide range of sports. The U/15 girls' team won the NSW All Schools Touch Football championship, Angela Hubbard was selected for the NSW U/21 hockey training squad, Kate and Leica Lebrocq were selected for the NSW team in the U/15 Touch Football and many of our students were selected for CIS teams. Emma Clifton began her successful career in hockey, beginning with selection for the 2002 Primary CIS hockey team and eventually selected for the u/16 Australian hockey team. Sam Spokes, Tim Nicholls, Nick Croker and Emily Nicholls were chosen to compete in the CIS cross country teams, Olivia Bird in netball, Annika Wolfgang, Angus Wolfgang and Patrick O'Brien in swimming, Laura Hombsch in Touch Football, Emily Lane, Michael Handley, Chris Croker, Chris Massey and Jack Massey in hockey, Emily Leys in cricket and Zoe Sanderson-Wall and Cameron Handley in golf to mention just a few. Sam Spokes experienced considerable success outside school in cycling.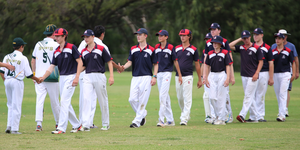 This last decade has seen continued upgrading and extension of the sporting facilities at Calrossy Anglican School. The opening of the Bishop Peter Chiswell Hall has provided a multi-purpose sporting venue for all students on the William Cowper Campus. The upgrading of the Joe Goldsworthy Oval on the same campus has been much appreciated.
Students have continued to enjoy wide competition and success in HRIS (Hunter Region Independent Schools), AICES (Association of Independent Co-Educational Schools) and CIS competitions. The School's equestrian team has been recognised as the most successful school over a number of years at the North West Equestrian Expo held at Coonabarabran with over 60 of our students competing. Claudia Nielsen and Mitchell Watts have had success in rugby union, Jess Davidson in cricket, Emma Klasen in athletics, Emily Grellman in water polo. Outside school, Chris Summerell has had great success in pistol shooting.
Our History or Sport and our archives are extensive and we might have missed some notable names! If we have let us know! Click here to tell your story... or other Alumni sport stories from over the years.