A gap year with a difference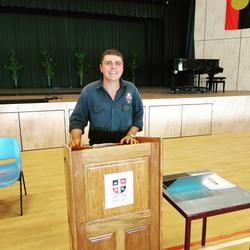 Ben Gigli (Calrossy 2020) has always shown enthusiasm to improve our school environment and has left an indelible mark as moves on to University study. You don't have to look too far around the William Cowper Campus to see Ben's impact. He was that student in Year 9 back in 2017 who wrote directly to the Principal David Smith, asking for funds to improve the area around the ramp to the Bishop Peter Chiswell Hall. He subsequently led and directed an improvement project that has continued since then, ultimately transforming the campus. It was little-known until recently that Ben even watered the plants during school holidays and amidst the peak of the drought. In 2018 Ben and his peers undertook erosion control, moving tons of rocks, and planting a native garden in the waterway that has now flourished.
Some of the best learning at Calrossy happens through partnership with our academic staff. With his Engineering Teacher Mr Todd McDonald, Ben and his class designed the tiered section at the rear of the Bishop Peter Chiswell Hall transforming it into an area that is now used for outdoor ceremonies and student break times. In 2019 Ben took the lead of the construction as part of Community Service, completing the first two rows of the tiered amphitheatre that was later completed in 2020 with the support of the Calrossy P and F and Executive.
Upon graduating from Calrossy in 2020 Ben sent a letter of introduction to Mr Smith and from this an innovative student gap year program has been established. Ben has worked with the maintenance team on the William Cowper Campus. Director of Operations Mr Sandy Cudmore said, " Ben's work ethic and enthusiasm for his role and the love of the school has been infectious and we wish him all the best for his studies and look forward to hearing the directions he takes in the future".
Principal Mr David Smith said, " Over my time at Calrossy I have been impressed in the voice of the students, sharing their opinions and providing important input. I am delighted of the impact Ben has made, first as student and then as an employee, in developing solutions and improving Calrossy. We are proud to support this program into the future and are looking at ways to expand and host with a formal training options."