Alumni - Will Cant (2012), Ben Cant and Bill Castleden (2015)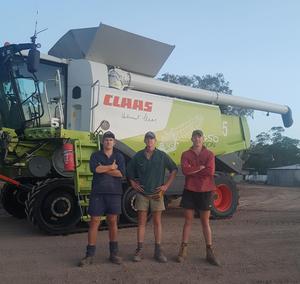 Calrossy Alumni Will Cant (2012), Ben Cant and Bill Castleden (2015) have partnered up to carve out a contract harvesting business soon after completing their studies at Calrossy Secondary Boys. For Will, following a stint working as a Ringer in the NT and Kimberley. His brother Ben, who had attained his fitter machinist trade qualification working in Warren, and Bill who had worked in Inverell, Tamworth then Warren through 2016.
Following the 2016 winter crop harvest on 'Mumblebone', in early 2017 these three mates stepped into the deep end and purchased a CLAAS Lexion 750 header and found the nearest wheat crop. It's been testing times of late with one of the harshest droughts on record, but this hasn't deterred these boys. Over the recent 2018/19 season, the boys based themselves in Warren, Western NSW and serviced an existing client. The establishment phase of the business, given the seasonal circumstances, is requiring a great deal of patience from the boys and the farmers they work with. Not every harvesting contractor went out to work in 2018/19 due to the poor season across Eastern Australia.
Bill said "Despite working long hours, because you're spending time with your mates, it makes everything that little bit easier. We start the day with a clean down of the machine, blowing out all of the dust and straw that could be of a fire hazard throughout the day, fill the bearings with grease, top up with fuel and after a general check over, we then start up for a 17 hour day. Through the day the machine purrs along and is capable of harvesting 60 tons per hour. We have the farmers operating a few chaser bins that come up beside us so we can empty out our bin to keep us going. This is the key; the more time we are moving the more work and money we can make. It's not all about the money for us but it helps to keep the bills paid. Our fuel bill for the day isn't like running a commodore down Peel Street".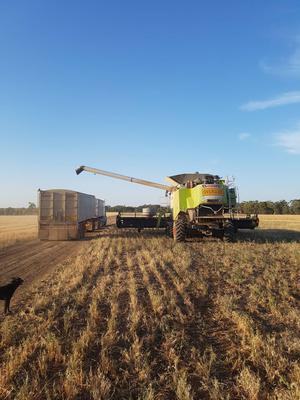 Ben said "When we stop and look back at the end of the day to see a paddock that has been stripped and all the grain getting loaded into Road Trains two trailers long to go to the silo it's just magic. You feel a proud sense of accomplishment, before going to bed and doing it all over again the next day".

Will exclaimed "Seeing regional Australia, its people and business's placed in 'pause' given dry seasons is 'bitter sweet'. It is encouraging to see people with almost an inherent 'buoyancy' and optimism as they consider their businesses, families and the opportunities that exist with the regions. However, it is also difficult to witness the strain that is caused by such an extended dry period. We know it will rain again soon and these small towns that we travel through will bounce back. We, like all farmers and agricultural contractors just need to keep making small incremental adjustments to stay afloat and keep on keeping on, knowing that, God willing, with every passing day we are closer to improved seasons that our country so desperately needs".

The boys jokingly mentioned "The days we all spent talking about what careers we would have following our school years. We could never have imagined the prospect of running a contracting business. It has it's ups and downs, but family has been a great support and we have a team of business advisors around us."

The three boys are looking forward to steering the header into a bumper crop that hits 8 tonnes to the hectare again soon, and know all of the Calrossy Alumni are praying for things to improve soon for all of our friends on the land.