Cookie Dough delivers upgraded library book trolleys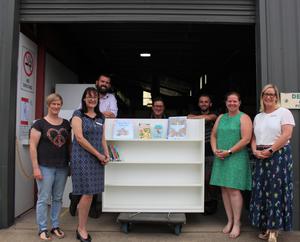 Like all things in 2021 COVID-19 impacted a lot of planned events and activities to bring our School community together. The Calrossy P and F ( P and F) used this opportunity to investigate a lot of new wild and whacky ideas around how we can still support identified projects with funds and do so while operating in a COVID safe way. After a while it became clear with winter approaching, this time of year meant home cooking. The Billy Gs Cookie Dough Fundraiser was settled on and the rest is history as they say selling nearly 1000 tubs of dough.
Yesterday, Calrossy on behalf of the P and F, took delivery of the newly built and upgraded book trolleys that have been constructed locally by JAScab. They have been put to work immediately and will continue to provide for the growing needs of our students. Head of Information Resources Mrs Zoe Morris said "these trolleys will allow for all the new and exciting titles from world renowned authors to be displayed and keep feeding the love of reading that we are fostering across our School. I am very appreciative of the generosity shown and to the P and F for purchasing these trolleys".
President Mr. Russell Ison said "This was a first for our P and F to work on an online fundraiser like this and while it was a nervous time, the results absolutely blew us away. We are very grateful for the support received from the families and friends that got behind this unique and very tasty fundraiser and we are proud to support these library trolley upgrades".
The Calrossy Parents and Friends invite all members of our community to become involved and we have many opportunities for people to assist in 2022. The P and F is hosting the 9 and Dine afternoon and the School Colour Run. Head of Junior School Miss Claire Dalziel said "In my short time at Calrossy I am constantly in awe of the P and F and how they go about their work. Working in partnership with the School they have achieved so much. I know that even in this COVID impacted year, the P and F has raised an enormous amount of funds and made significant contributions to projects in the School. The P and F are more than fundraisers, they are a dedicated voice for our Community. This partnership is one of the things that makes Calrossy such a special place. On behalf of our School, I would like to sincerely thank each and every person involved and I look forward to 2022 and beyond".
Pictured Left - Right: Mrs Rebecca Honeyfeild - Mrs Zoe Morris - Mr Michael Wilson - Mr Jason Nelson - Mr Jordan Nelson - Mrs Jocelyn Goodfellow - Miss Claire Dalziel