For the love of the game
A unique partnership between Calrossy Anglican School and Tamworth Rugby Union Sporting Club which has seen the Calrossy Boarders step in to help maintain and prepare Tamworth Rugby Park for weekend matches and the North West Schools competition and to give back through the Calrossy Foundation – Scholarship Fund/ Boarder fundraising.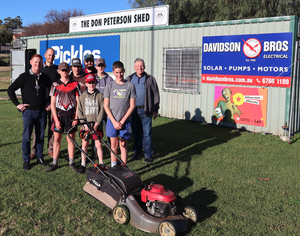 Calrossy Head of Boarding, Mr Geoff Chambers, said that this beneficial partnership allows for our students to be involved in community sport and learn new skills, while giving back to the community. Rugby is one of the highest participation sports at Calrossy for boys and girls. With many Students and Alumni going onto higher honours in the sport. Mitch Watts (2020) has recently represented Australia as a Junior Wallaby at the Oceania Championships and Claudia Nielsen (2015) is playing the Super W competition just to name a few.
Calrossy Boarders come from across Regional NSW and with farming backgrounds so working outside on a sports field is a great experience. Year 9 Boarder Tom Sloan said we are having lots of fun learning to mark the field and helping out as much as we can and as things heat up we will get to have a go at more tasks to assist the club such as running the irrigation in the evenings. Kicking the footy around at the end before heading back to Simpson is also great fun.
Tamworth Rugby President Mr Mitchel Hanlon said the club really appreciated the assistance of the Calrossy Boarders and the Calrossy Staff who support them while they are at the ground Shawn Mepham and Mick Wilson. As a club we have been grateful for the work of so many dedicated club members who have prepared our fields for so many years such as Don Peterson and as he recently retired. We have been fortunate to strike up this partnership with Calrossy that also rewards the Boarders for their efforts financially and this has allowed for our Club volunteers to be involved. It has also been a win for the Calrossy Foundation – Scholarship Fund / Boarder fundraising with the Boarders forwarding the earnings into that fund, a great example of the School's and Boarding values in action.