History Highlight - Our Pool
Did Boarders dig the Brisbane Street pool in 1969?
Through the boarding houses and the Alumni of Calrossy the rumour of the pool has travelled through the decades.
There is very little information in the 1969 Tamworthian or in the 'Calrossy- A Vision Unfolding' from around the time and the most information we have is from the Alumni returning to school and sharing the story of the day they took to the shovels and started digging a hole.
We know it was started in January 1969, and finished only a few weeks later. So it could be that the story of boarders contributing may be correct.
The Principal (Head Mistress) was Miss Hope Stacy (1968-1976) at the time, and as the story goes, it was a hot summer. The boarding students on campus had been requesting a pool for some time, and went to Miss Stacey with a petition. Miss Stacey said if you dig it, we will see what will happens. So, as any student would when challenged... they did.
The pool became a project of the Parents and Citizens (P&F) after the commencement of "the hole" as it was known. Strangely their report in the 1969 Tamworthian does not mention it at all but our finance records show that it cost $9,195.
Working from Archival Records and finance reports is not always the easiest to find out the real details, or the inside scoop.
If you were at Calrossy in 1969, can you confirm the rumour? Did you help with the dig?
Want to share your part of the story? Fill in this form here: Alumni News Request
The below photo includes Miss Stacy (at the back wearing sun glasses) and Miss Ruth Munro (with teacup on her knee). Taken early in Term 1 in 1969, this Sunday morning photo was taken when all the boarders were at Church.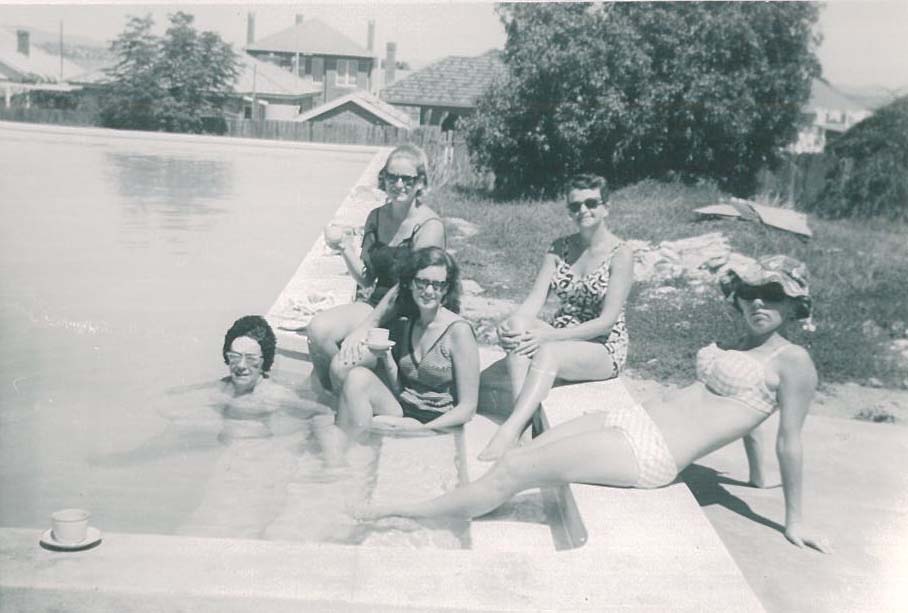 The same view today!