Senior Boarder Dinner inspiring our current students with special guest Alumni
It was a very special night last night as we had the privilege to welcome some special guest Alumni back to Calrossy House for the 2021 Senior Boarders Dinner which was held in the dining room of the Brisbane Street Campus.
Our Year 10,11 and 12 Boarders and members of staff heard from six of our Alumni who shared their personal stories about their life and advice for the Class of 2021 as they prepare for the HSC Trials in Term 3.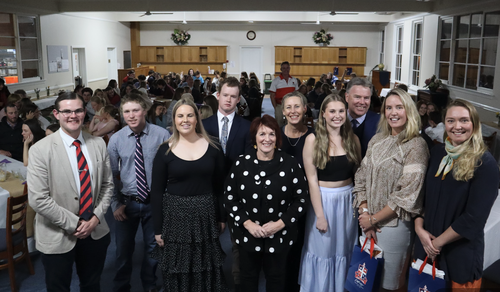 The evening was led by our 2021 Boarder Captains Grace Purtle, Patrick Bloomfield, Bridee McInnes and Nicholas Morrison who performed the MC duties with ease and a great deal of confidence. Our Alumni guests were a mix of in person and video presentation over Zoom.
Here is a short bio of our Alumni guest speakers and what they are involved in now:
Emily Humphries nee Herbert (Class of 2007). After completing school Emily worked with a polo team as a groomer and travelled the world. Before completing university and completing a communications degree is a freelance journalist, presenter, and proud mum
Jaimee Herbert (Class of 2009) who is now an Accredited Practising Dietitian working in her own recently opened Private Practise and is a PhD candidate at the University of Newcastle.
Sharon Draper (Class of 1980) Now the Head teacher of HSIE (Human society and its environment) at Calrossy. Before this she worked with the trade union movement and is a very active community supporter within the Tamworth District. Sharon is involved with several local executive boards.
Jo Smith (Class of 1995) Member of the NSW Police Force and has been working in Western NSW in Walgett, small remote stations as well as in Metropolitan Sydney before moving into specialised fields within the force and becoming a Detective. The skills she learnt at school through working with the SRC has helped her in her career giving her valuable experience speaking and dealing with people.
Toni Blanch (School Captain Class of 1980) Now working in Allied Health as a physiotherapist and currently working as an Occupational Therapist with young people who have spinal injuries. Toni is also a very passionate community supporter and has been involved in many charity projects to empower communities in Africa.
Will Cant (Class of 2012) Will is currently working on the family farm and running a successful contracting business with fellow old boys Bill Castleden and Ben Cant. Along with being a very active member of the Walgett Community. Will was also one of our first official Calrossy Boarders who moved into Simpson House.
Riley Bomford (Centenary Captain 2019) Currently studying Law and working part time with NSW Justice. Riley is a keen rugby official and is regular on the fields of the New England Rugby Union competition.
Head of Boarding, Mrs Courtney Coe said these events "are very important as we enjoy sharing the wider experiences of our Alumni to our School community through the classroom or the Boarding Houses. It is very important for current students to hear these stories and life experiences".
On behalf of Calrossy Anglican School we would like to sincerely thank our guest speakers for being involved and to our magnificent Boarder Captains who excelled in making this night a success.