Vale - Mrs Beverley Oxford
Calrossy Anglican School extends our sincere condolences to the Oxford family as we have learnt of the passing of Mrs Beverley Oxford aged 85.
Mrs Oxford was a driving force and long serving member of staff as Director of the Calrossy Preschool for 21 years. Mrs Oxford was a much loved and adored community member who assisted generations of young people to prepare for Kindergarten. During our School Centenary year in 2019 Mrs Oxford returned to meet the with the Preschool (students, staff and Principal Mr David Smith). It was very easy to get an understanding of why our Principal of the time Rev Peter Smart approached Mrs Oxford to lead the recommencement of our Preschool.
Rev Smart said when by Mr Warren Newman interviewed for our 75th Anniversary book titled Calrossy 1919 – 1994 A vision unfolding. "The electiveness of any pre-school depends very heavily on the effectiveness of its staff and in this regard, he experienced a stroke of extreme good fortune. While walking in the street one morning, he encountered a former parishioner and friend, Mrs Beverley Oxford, an experienced and very capable graduate of Armidale's Teachers' College who was the Director of the St Peter's Preschool in South Tamworth. At the time, she was considering a change in direction in her career and had just emerged from an interview with Mr Merv Wasson, the Regional Director of Education, who had told her that it "might not be easy" to find a teaching position for her in one of the Tamworth Government schools. She had not anticipated this difficulty and could not resist venting her incredulity on Rev. Smart. Never one to let an opportunity pass, he quickly said to her "How would you like to start a preschool for us at Calrossy?" She went home, thought about the offer, and accepted it and the preschool began in September 1977, with an outstanding teacher who was to endear herself to generations of small children and parents alike."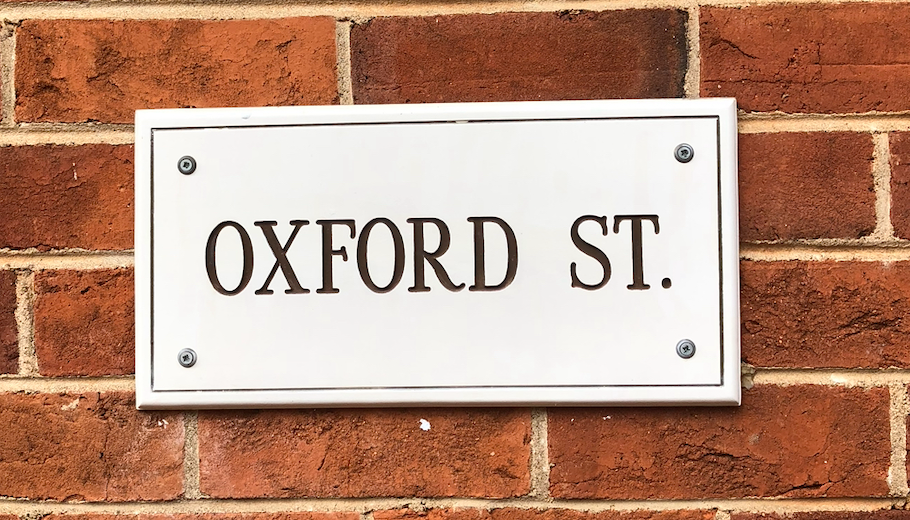 The "Oxford Street" sign was a gift presented to Mrs Oxford by Rev Smart when he returned from a trip to London. This sign then found its way on to the southern wall of Mrs Oxford's little empire as he described. This sign is still to be seen there, even though the preschool no longer occupies the building for all the Calrossy Community to see what a positive impact was made by a wonderful educator who will be missed by us all.
Image:
2019 Calrossy Preschool Students, Staff and Mrs Oxford