Savanna Cull is one extraordinary student!
Congratulations Savanna
We are very excited to receive word from the University of Newcastle today that Savanna Cull (CAS 2020) was recognised as one of the extraordinary students in the 2022 round of the Ma & Morley Scholarship Program. The program aims to inspire, educate and cultivate the next generation of globally aware and socially conscious Australian leaders.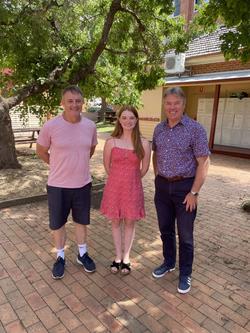 Savanna today received a prestigious Ma & Morley Scholarship at the University of Newcastle, a wonderful personal achievement thatacknowledges the work Savannah has being undertaking in making a difference. At a ceremony today Vice-Chancellor, Professor Alex Zelinsky AO, University leaders, program convenors and special guests warmly welcomed and congratulated these inspiring future leaders on their selection in the scholarship program.
Principal David Smith wrote this: I am extremely delighted to learn of Savanna's selection for this prestigious Ma and Morley scholarship. At school she exemplified our school values of integrity, resilience, inclusiveness and selflessness so it is no surprise that she continues to be a change maker, making a difference to our community as she moves through Uni and towards the workforce. We are very proud of her achievement. Our school is delighted to see many of our graduates acting as creators of hope, leading change and contributing to making our community a better place. I congratulate the University of Newcastle and benefactors like Jack Ma and Ken Morley for their commitment and vision in supporting these young and aspiring leaders of tomorrow.
Savanna is picutred here with Calrossy Careers Advisor Charles Impy and Principal David Smith on a recent trip back to Tamworth during the recent holiday period.