And the winner is Captain Liz Daly (Class of 2003)
In 2021 Liz Daly was one of the awardees in the Telstra Brilliant Women in Digital Health awards, set out to recognise and celebrate Women in Digital Health for their outstanding achievements, while raising awareness about the opportunities in the sector and inspiring others to follow their lead.
C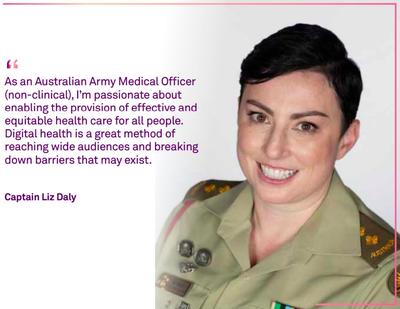 alrossy Anglican School has so many amazing Alumni stories about achievements and success after Year 12. Captain Liz Daly, Class of 2003 has an industrious career full of study and adventure, we are so proud of what Liz has achieved over the past 20 years.
Michael Wilson, School Development Co-ordinator was able to get in touch with Liz and find out what has been happening over the last 20 years. Talking all things Sport, Army and Study, Liz's career is an eye opener about what is possible for a Calrossy Alumni.
Liz started her schooling at Calrossy in Term 2 of year 10 in 2001 as a fulltime boarder. "very surprisingly, found myself having the most amazing time as a senior student for those remaining 2.5 years". Liz was always sporty, and remembers staff member Mrs Helen Taylor took her under her wing, and was soon playing a lot of Women's and Schoolgirls hockey as well as Touch, Waterpolo, Athletics and pretty much any other sport.
Playing so much sport had Liz out of the boarding house and involved in the local Tamworth community, all while making fantastic friends. Even now, every time Liz heads home to Sydney we have a Calrossy get together, which now include more children and less beer.
Liz was the Ballaburra House Captain in 2003. With fond memories of Mr Mark Doran who she got to know well due to all the detentions for not wearing uniform correctly, she has taken the experience into her career that now requires a high uniform standard!
After finishing school, Liz went on a Gap year to the UK and returned home to complete a Bachelor of Sport and Exercise Management at UTS. Upon graduation in 2007, Liz worked in the sporting events industry as an events coordinator. Heading back to study and completing a Post-Grad Cert in Event Management from UTS in 2008.
In 2010 Liz decided to join the Army Reserves as a member of the Military Police with the goal of becoming a dog handler. After completing the initial training at Kapooka, Liz realised that this was the job for more and applied to transfer to full time service. Selected to commence Officer Training at the Royal Military College – Duntroon in 2012, and was promoted to Lieutenant in 2014 as a Medical Officer (non-clinical) in the Royal Australian Army Medical Corps was just the start.
The first posting was to 11th Close Health Company, 1st Close Health Battalion in Brisbane fulfilling the role of Platoon Commander and Operations Lieutenant. During the posting Liz became the Commander of the health element for the 7th Combat Brigade Ready Battle Group and as Close Health Liaison Officer to 8/9th Battalion, The Royal Australian Regiment. In August 2016, she was deployed to the Middle East Region as an Operations Officer for OP ACCORDION. During this seven and a half month long deployment and once again, the mateship from the Calrossy girls shone through with bulk care packages and Skype calls.
Upon the return to Australia in March 2017, with a posting to Townsville as the Operations Lieutenant / Aero Medical Evacuations Platoon Commander until September 2017. Liz was promoted to Captain in December 2017 and remained as Operations Officer until December 2018. During this posting Liz fulfilled the roles of Health Planner for OP PNG ASSIST, Health Liaison Officer for the 3rd Combat Brigade, Health Planner for the Papua New Guinea Train the Trainer Staff Military Appreciation Process Pilot Course, Senior Watchkeeper for the Combined Joint Task Force Casualty Regulation Cell and was the Senior Instructor for the first two Pilot Chemical, Biological, Radiological and Nuclear Health Courses. Liz also conducted concurrent project management for my Battalion during this posting with my research paper on the effects of climate on the degradation of pharmaceutical stores in Army Training Areas published in the Australasian Military Medicine Association Journal in January 2019. This paper was part of further study for her Masters of Health Management which she was awarded by UNE in October 2018.
Liz posted to the Army School of Health in 2019 as a Project Officer completing the Army review on Casualty Evacuation, Tactical Care of the Combat Casualty and the Rotary Wing Aeromedical capability. In 2020 she was posted as the Executive Officer at the ADF Peace Operations Training Centre during which she instructed on a number of United Nations Military courses for ADF personnel deploying overseas. She is currently posted to Headquarters Defence Force Recruiting where she is responsible for the recruitment of ADF health specialists including nurses, doctors and allied health professionals. She will be heading off later this year to Israel to complete a deployment with the United Nations.
Liz is also undertaking further study with a PhD at Central Queensland University on the topic of prevalence of post-traumatic stress disorder amongst female veterans. She is passionate about advocating for woman's equality and has had a number of articles published including The Female Lead, The Forge, Journal of Military and Veterans Health and The Strategist. Liz has kept up with her sports, to an extent, with a bit of representation for Army in Rugby and Alpine Skiing
With the Brilliant Women in Digital Health Award, Captain Liz Daly has been recognised for her work in helping with the rapid development of online training packages, created alongside a team of clinicians, for the Australian Defence Force's (ADF) response to COVID-19 in 2020. Now completed by over 200,000 ADF personnel and translated to 22 languages to assist other organisations and countries, it enabled the ADF to provide vital support to the Australian community in a time of crisis by redirecting the general ADF workforce and non-health capabilities to reinforce the public health systems throughout the pandemic. Non-medical soldiers were upskilled to provide additional support at contact tracing centres, testing clinics, aged care facilities and more.