A blast from the past !
We reached out to former Principal, Stephen Laurence, of William Cowper Anglican Secondary Boys School (WCASBS) to ask about how WCASBS came to meet a Wallabies Coach.
Before coming to (WCASBS) in 2001 I was Deputy Principal of the International Grammar School, Sydney where I worked with Mr. Eddie Jones for my first two years there. Eddie actually interviewed me for the position. He knew I had a keen interest in rugby as in 1993 while teaching at Newington College, I accompanied to Burgundy, France, as assistant coach and interpreter, a group of Newington students who took part in the world's first Under 13 Rugby World Cup as Australia's representative.
In 2002 I entered a WCASBS Under 14 rugby team in the local Friday afternoon Tamworth schoolboys competition. I invited Eddie Jones to come to Tamworth in 2003 to run a coaching clinic for the boys and to address them. So on the Saturday afternoon of September 13, 2003, at a local oval, Eddie put the boys through their paces. It was a most enjoyable afternoon and the boys certainly appreciated having the Wallabies' coach in their presence. That night at the Tamworth Community Centre at a formal function, Eddie addressed the local rugby community. He auctioned off his Australian Team tracksuit. All monies raised that night went to improving sporting fields at William Cowper Anglican School.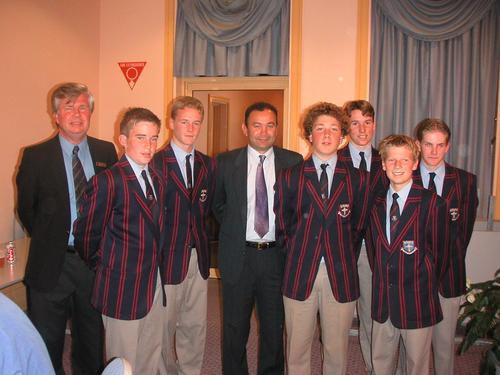 Now in 2021 the Calrossy Anglican School rugby program has expanded to be the largest sport for male and female students across our Secondary School. Mr David Smith Principal said the atmosphere during the rugby season is electric when walking through the grounds of our campuses. It just dominates the conversations in the playground and the ovals are full of students playing touch or just passing a football and having a chat. Through the Development Office Mr. Michael Wilson is working hard to incorporate the history into our School so the students of today get a better understanding of where we have come from.
Continuing to reconnect with our Alumni and wider community is an important focus for Calrossy Anglican School. Alumni are the keepers of the history you don't get to read in the Tamworthian. While the current day students are the writers of the next chapters and we appreciate the time our Alumni give to be involved in the school through various events and speaking with students in classes.
Mr Michael Wilson Development Coordinator said like everyone our plans have been hit hard by the impacts of COVID-19 through not being able to host or provide assistance with class reunions. So we are all looking forward with excitement towards 2022 and the Alumni Reunion Weekend tat will be held on the October Long Weekend. We are encouraging all of our Alumni join us across weekend to tour the campuses and see the developments that have been undertaken since our 2019 Centenary year. One event that is happening on Goldsworthy Oval is the Red V Blue Old Boys Match and this community event that will see a large crowd and fireworks!.
Pictured in the photo are the boys who acted as welcomers and helpers at the evening function. They are wearing the original boys' school uniform. The boys are (left to right): Tom O'Brien, Sam Parbery-Frew, Nick Croker, Tim Kirk, Tristan Ireland and Michael Ferris, Stephen Laurence, left, and Eddie, middle.
To purchase a ticket to the Red v Blue 2022 click here https://calrossy.nsw.edu.au/red-v-blue